Hallo, it is me again (well it's my blog so that's no surprise) I have officially been in Switzerland for 21 days and 7 hours not that I'm counting or anything …Despite being here for over two weeks I have literally had no time to stop due to departing for a 14-day language camp the day after I arrived. In the early hours of the morning (7:30am) my YEO picked myself and Sophia from Colombia up to begin our journey to Fiesch where the camp was held. On the way there we stopped in a town called Brunnen right alongside Lake Lucerne where we had a coffee and on the top of Schollenen Gorge where we learnt the interesting story about the deals made with the devil to construct these bridges. Our final stop after this was in a small restaurant in Fiesch where I tried Röstin for the first time (I loved it.) Then we finally arrived at our destination and home for the next 14 days.

Rather than write individually the stuff we got up to every day I'm going to summarise it into one paragraph then write about the mini-trips we did individually. At the very start we were divided into two groups for our German classes, all up we had 60 German lessons which were extremely tiring but we did learn a lot during this time. Our day mostly looked like 7am wake up for 7:30 breakfast, then class from 8:15-10:15 then a break. Then more classes from 10:30 – 11:45 then we had our lunch break and probably ate pasta (it was our main food at camp.) We started classes again at 2pm and finished around 3:45pm so we were always exhausted at this point. Then most days we did sports which were swimming (they had an indoor pool) or playing volleyball (indoor of course.) If we didn't have sport there was always free time which we would spend in the Village, COOP or Migros or back in the house eating chicken noodles. The chicken noodles were mostly myself, Sam and Gio (they were amazing and one of the highlights.) Some Nights we had free time and other nights we would do something such as workshops on Switzerland and Rotary, dinner with the local Rotary club, LOTTO (BINGO), watching a movie or even bowling. Of course, we did a lot more but this is just the general day to day life in Sprach camp. 

Suspension bridge and Aernen 
On the first Saturday, we had our first-day trip, which would see the suspension bridge and the town of Aernen. The suspension bridge was absolutely gorgeous and one of those places where you have to be there to really understand the beauty of the land around you. I'll put some photos in at the end as it's hard to describe so I'll let you see for yourself. 
After the bridge, we went for a walk through the snow and to the town of Aernen, during our walk we found a pond completely frozen over which was very exciting for all. I mean that's what happens when you throw 26 kids who haven't spent much time in the cold into the Swiss Alps. The town of Aernen was breathtaking, we all walked to the church which was incredible. One of the things I love doing here for far is walking into all of the churches I find, while I love the incredible Architecture within these century-old churches there's also just something breathtaking within them that can't be described other than a feeling. 
Cross Country Skiing
The day after the suspension bridge on Sunday which also happened to be Australia day we once again ventured out into the big wide world and tackled our next adventure… cross country skiing. Before we left myself and another Aussie girl ran around putting Australian tattoos on everyone so we all kinda looked like this…..
Then we actually got to skiing, when we arrived they put us into two groups a faster one and a slower one. Now when they told us where the slow group was I was a tad distracted by the snow falling from the sky, I mean can you blame me it was sehr schon!!! Anyway, I found myself in the faster group which was terrifying and mainly consisted of people getting a tad too confident and falling over. After about two hours of skiing, we finally reached our destination to find them blasting Cordula Grun for the skiers (for those who aren't familiar with the song 10/10 would recommend.) 
Final trip Fiescheralp
On the last Thursday of camp, we travelled in the fastest cable car in Switzerland so we could spend a few hours on Fiescheralp. When we all got up there we hurried to a nice photo location and took a few (okay okay maybe a few more photos than just a few) and began our walk. It was a little surreal up there feeling like you're on top of the world but also feeling so small in comparison to the massive mountains looming over you. Knowing that the mountains I could see in the distance were apart of Italy. 
Goodbye 🙁
Then before we knew it we had our A1 certificates and we were on our way home. I am so lucky to have the most amazing rotary family over here already and love them all so much. It was an amazing start to my exchange and makes me even more excited to see what this year has install for me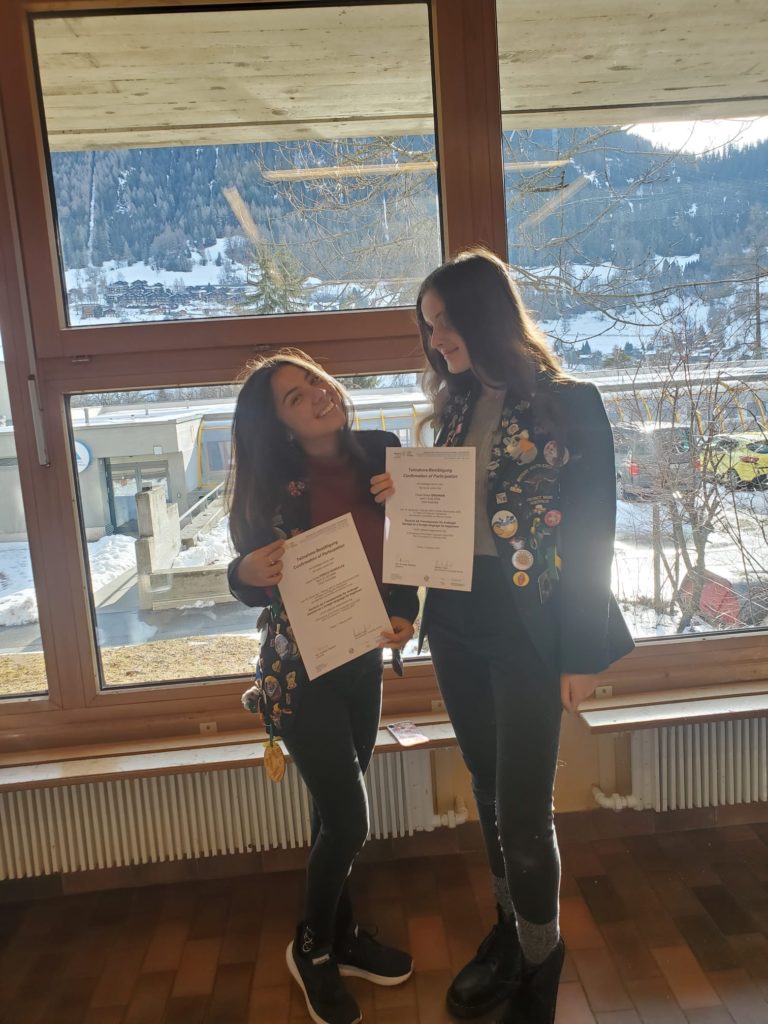 Tschuss !!